Michael's Official Website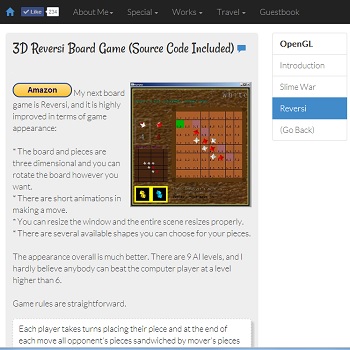 Amazon
I developed
Michael's Official Homepage
a long time ago. Just recently I updated my homepage so that it looks nice on all kinds of mobile devices and computers using the Bootstrap framework (scroll down to see a photo of the old site).
My personal homepage used to have a Christmas-like background with snow and Santa Claus in a white backdrop. They were all written in static HTML. Whenever I needed to update the website globally I needed to update every single webpage. Very inflexible.
Later I decided to make my offical website more Web 3.0. Thus a new
Michael's Official Homepage
is born.
I put
my personal information
like personal
educational background
and information about each of my
family members
.
I talk about
my extensive programming experiences
(e.g.
distributed computing
,
artificial intelligence
) and software projects (e.g.
eye detection software
,
PC remote
) I've worked on.
Also I talk about fun hobbies like how I learned to
play the piano
and played
Eyes On Me on the piano
,
my favorite Windows software
,
jewelry making
, and
glass fusing
to share with the rest of the world!
The website is built using the following technologies:
PHP: PHP is the backbone of the website. THe PHP engine generates all the dynamic content of Michael's Official Homepage.
Bootstrap: The Bootstrap framework is a popular HTML, CSS, and JS framework for developing responsive, mobile friendly websites.
jQuery: The Javascript library jQuery is one of the most popular libraries. It has a super rich plugins that do all kinds of visual effects which were only possible with Flash before.

I use jQuery to dynamically inject CSS or HTML tags. I also use jQuery to slowly scroll up to the top when a button is clicked, and to slowly scroll down to Facebook comment section when another button is clicked.

I also use jQuery to load Facebook API asynchronously.
SVN: I use SVN to do source control for all the files posted on Michael's Official Homepage.
Facebook Plugins: As you can see I use FB Like plugin, FB Share plugin, and FB comment plugin on Michael's Official Homepage.
As promised here is a screenshot of my old homepage. It doesn't look too bad, but its content is too small to read on mobile devices.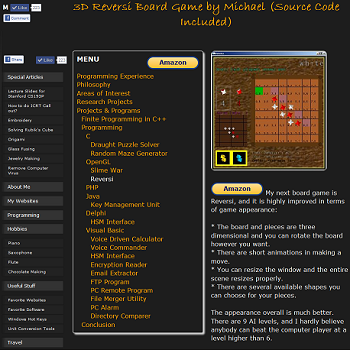 What are your favorite articles on
Michael's Official Homepage
?