Best Ho Chi Minh City Hotels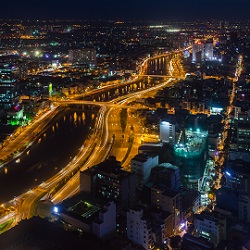 Amazon
Travelers, who have visited Vietnam, are said to be divided into two categories: those, who prefer Hanoi and those, who like Ho Chi Minh City (former Saigon). The number of the latter is growing rapidly with the expansion of the city and the new places of accommodation, erected here and there. This non-official capital is very rich in landmarks, as well as shopping malls and markets, bars and restaurants and other entertaining areas. Largest Vietnam city also boasts best Ho Chi Minh City hotels, which are mostly found in touristic area – District 1, and range from the most luxurious to budget ones. The hotels of different class are listed below, to enable travelers to choose the one, which will meet their demands and budget the best.
Three-star GiaLinh Hotel is set within walking distance from famous Ben Thanh market and other centrally located places of attraction and provides top-quality accommodation and service for leisure travelers. The rooms are cozy and spacious and feature all the necessary and modern amenities, such as complimentary Wi-Fi Internet access, coffee and tea making facilities and bathrooms. Private Jacuzzis are also available in some rooms. A tasty buffet breakfast can be served in the on-site restaurant, remarkable for its delicious Asian and Western meals, or be delivered to your room. Leisure facilities include karaoke-bar and massage treatment.
Somerset Ho Chi Minh City also boasts its favorable central location, contemporary decor and elegance and space of its 165 guest rooms, fully furnished and equipped with a private bathroom and a kitchen and providing the direct access to broadband Internet. All rooms come in different sizes to accommodate single travelers as well as big companies. Restaurant and bar are available on site and invite the visitors to pamper their palates with local and international dishes. An outdoor swimming pool and jacuzzi, children's swimming pool, a modern gymnasium with a set of necessary equipment, a tennis court and other recreational facilities won't let the leisure guests get bored with their vacations at this four-star hotel.
Caravelle Hotel firstly opened its door for visitors on Christmas Eve, 1959. A former location for grand balls, today this five-star hotel is of both history and luxury. 335 chic rooms and suites feature elegant furnishings, basic amenities and panoramic views of Saigon River. The hotel has a special dining floor, where you can taste international cuisine at Restaurant Nineteen or try experimental cooking at Reflections Restaurant. Saigon Bar, Martini Bar, Pool Bar, and Lobby Lounge are the places, where you may relax and sip your favorite drink. The breakfast is included in the room rate. The hotel features 24-hour Fitness Center, a jacuzzi, an outdoor swimming pool with sun terrace and Qi Salon and Spa for your relaxation.
Despite the difference in the rate and price of the listed Ho Chi Minh hotels, all of them are filled with traditional home away from home atmosphere, charm and ambiance, which will exceed the expectations even of the sophisticated travelers.