Pachelbel Canon by Michael
Michael plays the above song, Pachelbel Canon, on the flute!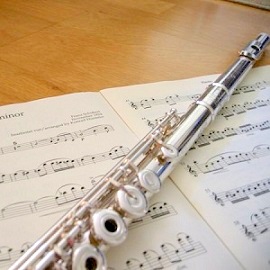 Amazon
'Pachelbel Canon' is written by German Baroque composer Johann Pachelbel and is perhaps one of the MOST popular classical songs!
When Pachelbel Canon was first published in 1919, the piece became extremely popular, and today it is frequently played at weddings and included on classical music compilations, along with other famous Baroque pieces such as Air on the G String by Johann Sebastian Bach.
The original version of Pachelbel Canon is slow and a bit dull. What you hear on this page is a variation of the piece. This version is much more lively and has more pleasant twists to it.
Too bad I don't know who composed this version; I originally heard the piece from some CD some friend bought me.
I first heard of this song when I was in high school, when I was shocked to find that flute can be played so beautifully! Since that day I practiced day and night.
I must have played this song more than one thousand times now, until my stereo system broke.
Hope you like my rendition of Pachelbel Canon! If you enjoy it, feel free to listen to
the original version of Pachelbel Canon in D Major
.