Facebook.com/Ch2En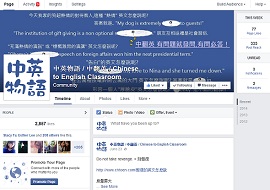 Amazon
As you know from
My Websites
I have developed a website called
ChToEn.com
which helps Chinese-speaking people learn the English language.
Specifically,
ChToEn.com
helps translate some of the hardest-to-translate-from-Chinese-to-English words and terms into English.
In reality I created the Facebook fan page,
https://www.facebook.com/Ch2En
, first so I could begin to help people as early as possible.
When I realized that there were many who needed this service, I began to work on the website ChToEn.com, and within a few days I put ChToEn.com live.
If you need any help translate Chinese into English drop me a line!